Teacher and students pay a musical tribute to the UK's key workers
Reworking ABBA's 1977 hit Thank You for the Music, a Buckinghamshire-based singing teacher and her students have rehearsed and recorded a musical tribute to UK key workers.
Titled Heroes to Me, the inspirational lyrics are dedicated to the tireless work that key workers are doing at the moment to keep the country safe during the coronavirus pandemic.
The heartfelt project was put together by local singing teacher Sophie Jugé and two of her colleagues. They called upon the help of 34 of Sophie's singing students, all who are based in Marlow or the surrounding villages. In just 24 hours, the group learnt the lyrics, rehearsed and recorded their own versions of the song – all from their individual 'lockdown homes'.
Once the individual performances had been recorded, Sophie spent two days coordinating and creating a fantastic video: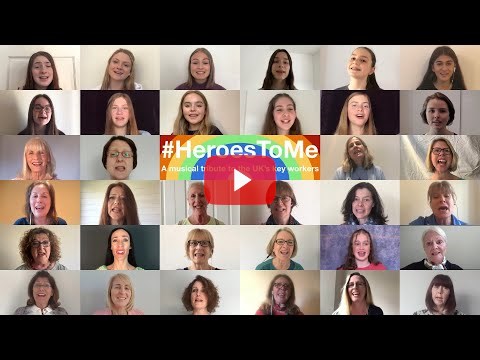 Sophie had this to say about the project:
"Aside from all the wonderful work that the NHS are providing, there are hundreds of thousands of people: teachers, chemists, refuse collectors…'this country's beating heart' – and we wanted to express our appreciation to them all. 'To the bus and train drivers too!' – lyrics from the 2nd verse.
"We hope that as a result of listening to our song and people sharing it, the key workers feel valued and appreciated by the general public. We've been really touched by the emotional responses from key workers."
Cllr Gareth Williams, Buckinghamshire Council's Executive Portfolio Holder for Health and Culture, commented:
"This is a wonderful tribute to the hardworking and dedicated key workers that are helping to keep the country going during these difficult times. It's also another amazing project that we're happy to spotlight as part of #ProudofBucks – a campaign to celebrate the work of the NHS, council staff, voluntary groups, businesses, partners and people in the community as they protect, help and support people in Buckinghamshire during the coronavirus outbreak."
More information on the Heroes to Me musical project can be found on their dedicated website: www.heroesto.me